Posts for: September, 2014
By Calhoun Dental Associates
September 24, 2014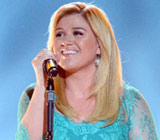 Now that celebrities can communicate directly with their fans through social media, we've started to see dispatches from some surprising locations — the dental chair, for example! Take singer Kelly Clarkson, who was the first winner of American Idol, and perhaps one of the first to seek moral support via social media before having an emergency root canal procedure.
"Emergency root canal — I've had better days," Kelly posted on her Facebook page, along with a photo of herself looking… well, pretty nervous. But is a root canal procedure really something to be scared about? It's time to clear up some misconceptions about this very common dental procedure.
First of all, root canal treatment is done to save a tooth that might otherwise be lost to an infection deep inside it. So while it's often looked upon with apprehension, it's a very positive step to take if you want to keep your teeth as long as possible. Secondly, tooth infections can be painful — but it's the root canal procedure that stops the pain. What, actually, is done during this tooth-saving treatment?
First, a local anesthetic is administered to keep you from feeling any pain. Then, a small opening is made through the chewing surface of the infected tooth, giving access to the central space inside, which is called the "pulp chamber." A set of tiny instruments is used to remove the diseased pulp (nerve) tissue in the chamber, and to clean out the root canals: branching tunnel-like spaces that run from the pulp chamber through the root (or roots) of the tooth. The cleared canals are then filled and sealed.
At a later appointment, we will give you a more permanent filling or, more likely, a crown, to restore your tooth's full function and protect it from further injury. A tooth that has had a root canal followed by a proper restoration can last as long as any other natural tooth — a very long time indeed.
If you have any questions about root canal treatment, please contact us or schedule an appointment for a consultation. You can learn more by reading the Dear Doctor magazine article "A Step by Step Guide to Root Canal Treatment."
By Calhoun Dental Associates
September 09, 2014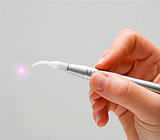 Without effective treatment, periodontal (gum) disease can eventually lead to tooth loss. That's why it's imperative to remove bacterial plaque and calculus — the main cause of the disease — from all teeth and gum surfaces. For moderate to advanced gum disease, this could require a procedure known as flap surgery to gain access to deeper infected areas.
This type of procedure involves making scalpel incisions into the gum tissue to create a flap opening. Through this opening we're able to gain access to the deeper pockets that have formed because of the tissue detachment that occurs following bone loss. The flap opening allows for better access to the root surfaces for removal of plaque and calculus (tartar). Once we've finished, we then suture the flap back into place to reduce the pockets and allow the area to heal.
While effective, flap surgery is considered moderately invasive and may produce mild post-procedural discomfort. Recently, however, a specially designed laser for periodontal therapy shows promise of less invasiveness and patient discomfort than traditional flap surgery.
A laser is an intense and narrow beam of light of a single wavelength. A periodontal laser can pass without effect through healthy cell tissue (like sunlight through a window pane) but interacts and "vaporizes" the darkly pigmented bacteria in diseased tissue. The laser energy is delivered in pulses to minimize any heat-related damage to healthy cells.
The periodontal laser can precisely remove diseased tissue, even where it mingles with healthy tissue. Once it's removed, the root surfaces can be cleaned with ultrasonic scalers and/or hand instruments. And because a medical laser seals the tissue it cuts, it doesn't produce open incisions as with flap surgery that require suturing afterward.
Studies of post-operative recovery after laser surgery showed similar infection reduction and renewed bone and tissue growth as with traditional surgery. Patients, however, reported much less discomfort after the laser procedure. Although more research is needed, it initially appears periodontal laser treatments can effectively treat gum disease with minimal interference with healthy tissue and greater comfort for patients.
If you would like more information on the use of lasers for the treatment of gum disease, please contact us or schedule an appointment for a consultation.