Posts for: November, 2014
By Calhoun Dental Associates
November 19, 2014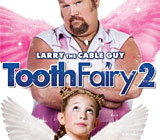 Did you know that severe tooth decay is America's #1 chronic childhood disease? Actress Brady Reiter didn't know either — until she became the star of the movie Tooth Fairy 2, and then joined forces with the National Children's Oral Health Foundation: America's ToothFairy®.
"Before, I didn't even realize what can happen to kids if they don't take care of their teeth," 11-year-old Brady recently told Dear Doctor magazine, after viewing photos of children suffering from severe tooth decay. "There are kids in America who don't know that it's important, or they just don't have the resources to be able to take care of their teeth or to go to the dentist."
This young Tooth Fairy knows just how magical — and vital to a child's self-esteem — a beautiful smile can be.
"When you feel bad about opening up your mouth and smiling, a kid's confidence just goes down the drain," she said.
NCOHF recently tapped 11-year-old Brady to head the America's ToothFairy Kids Club, which offers kids personalized letters from the Tooth Fairy along with lots of encouraging oral health tips and fun activities — free!
"I'm really excited to be part of it," Brady told Dear Doctor. "Kids learn how to take care of their of smile by joining this club. By supporting America's ToothFairy, we can help kids in need get dental care and have a healthy smile too. It's really amazing!"
While lots of kids get an occasional cavity, millions of children have tooth decay so severe that it interferes with their ability to eat, sleep, and concentrate in school. The good news is that tooth decay, a bacteria-induced infection, is preventable.
"When kids join the club, they learn how to prevent tooth decay. When families support this great cause, we can help kids in need. And that's what feels great — that we really can make kids' futures better."
If you would like to enroll your child in the club — it's free! — please visit www.AmericasToothFairyKids.org. And to make sure your child's teeth and your own are decay-free and as healthy as possible, please contact us today to schedule your next appointment.
By Calhoun Dental Associates
November 04, 2014
Tooth decay is a primary cause of tooth damage and loss, with annual treatment costs in the billions of dollars. It arises mainly from oral bacteria, which proliferates in the absence of effective oral hygiene. There are, however, other risk factors besides poor hygiene that could make you more susceptible to this disease.
Many people, for example, have genetically inherited deeper grooves (fissures) and depressions (pits) than the average tooth anatomy. These may be harder to reach with a toothbrush and can become havens for bacterial plaque. Others may have health conditions that indirectly affect the mouth: bulimia or anorexia, psychological conditions that involve self-induced vomiting, or GERD, gastro-esophageal reflux disease, in which stomach acid could regurgitate into the mouth. These conditions could result in a highly acidic mouth environment.
Some medical and — ironically — dental treatments could also increase your tooth decay risk. Some medications can reduce saliva flow, which inhibits acid neutralization and re-mineralization of enamel. Retainers, braces, bite guards or other dental appliances may also reduce the saliva wash over teeth, and can make brushing and flossing more difficult.
There are also risk factors that result from our lifestyle choices. Eating a lot of foods rich in sugars and other carbohydrates, for example, or acidic beverages like soda, energy or sports drinks contributes to the rise of bacteria in our mouths.
There are ways to reduce the effects of these risk factors. In addition to a daily habit of effective brushing and flossing, you should also include semi-annual cleanings and checkups at our office a part of your routine. If you have genetic, medical or dental issues that are out of your control, we can discuss solutions, such as alternatives to medications or different techniques for cleaning around dental appliances. For lifestyle-related factors, you should consider removing the habit or modifying it: for example, snacking at specific times or drinking acidic beverages only at mealtime.
While tooth decay is a serious, destructive disease, it is highly preventable. Addressing all your risk factors, not just hygiene, will reduce your chances of having it.
If you would like more information on tooth decay prevention, please contact us or schedule an appointment for a consultation. You can also learn more about this topic by reading the Dear Doctor magazine article "Tooth Decay: How to Assess Your Risk."