By Calhoun Dental Associates
March 25, 2015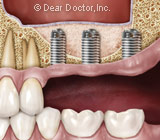 Of all the of amazing procedures in today's dentistry, surgery that causes new bone to grow — in places where it had previously been lost — is high on the list of the most extraordinary. (When bone is lost or resorbed, it is broken down into its mineral components, which are dissolved into the bloodstream. Resorption of tooth-supporting bone often takes place after teeth are lost.) Dental techniques that cause new bone growth are important because a certain amount of bone is needed to replace lost teeth with dental implants.
Today's dental implants themselves are an amazing innovation. Implants consist of a replacement for the tooth's root, usually made of a metal called titanium. A replacement for the crown, the part of the tooth that is visible above the gums, is attached to the titanium root. Titanium has the remarkable quality of being able to fuse with the bone in which it is anchored. This process, first discovered in the 1950s, is called osseointegration.
In the case of missing upper back teeth, many people who wanted dental implants in the past were told that they did not have enough bone to anchor the implants and that they had to get removable dentures instead.
But now a new surgery called maxillary sinus augmentation can cause your body to regenerate bone where it was lost and is needed to anchor dental implants.
Bone in the upper jaw or maxilla usually supports your upper back teeth. Inside the maxilla, on either side of your upper jaw, are air spaces in the bone, which are lined with a membrane. These spaces, called the maxillary sinuses, are generally shaped like pyramids; but their shape and size is different in each person. The new surgical procedures involve lifting up the sinus membrane in the area where bone is needed and filling the space thus created with a bone grafting material. Your body then creates new bone to fill the space. This usually takes about six months. If you have almost enough bone to stabilize the implants, they can be placed simultaneously with the graft, thus saving time and avoiding a second surgical procedure.
All grafting materials used today are approved by the Food and Drug Administration (FDA) and must be prepared according to their guidelines. They are specially treated to render them completely safe for human use.
After the surgery there is usually no more than mild to moderate swelling and some discomfort, about the same as having a tooth removed.
If you are missing upper back teeth, contact us to schedule an appointment to evaluate your upper jaw. You can also learn more about this procedure by reading the Dear Doctor magazine article "Sinus Surgery."